Archive for the 'Contests/Giveaways/Awards' Category
I was given the opportunity to view the movie Woodlawn before it is out in theaters. I have loved other movies that Pure Flix has made, and knew that I would enjoy this one just as much.
Here's the quick synopsis: From Pure Flix (GOD'S NOT DEAD, DO YOU BELIEVE?), Roma Downey and Mark Burnett (THE BIBLE, SON OF GOD) and the Erwin Brothers (MOM'S NIGHT OUT, OCTOBER BABY) comes WOODLAWN, an exhilarating high school football drama and remarkable true story of how love and unity overcame racism and hate in early 1970s Birmingham, Alabama. Starring Academy Award winner Jon Voight, Sean Astin, Nic Bishop and newcomer Caleb Castille, WOODLAWN depicts the spiritual awakening that captured the hearts of a team and unified an entire city.
Enjoy the trailer:

I love how the players all come together to overcome the racial split. The meaning behind this movie, is something that I wish everyone could grasp! We all need to overcome the hate between races. I think the director, Andy Erwin says it best: "I'm passionate about the truth that the only way to overcome hate is by a greater law – and that's love and forgiveness. And Jesus is the ultimate way to receive and give both love and forgiveness."
These are the items I have for the giveaway. I was given two sets, one for myself and one to give away to on of my readers.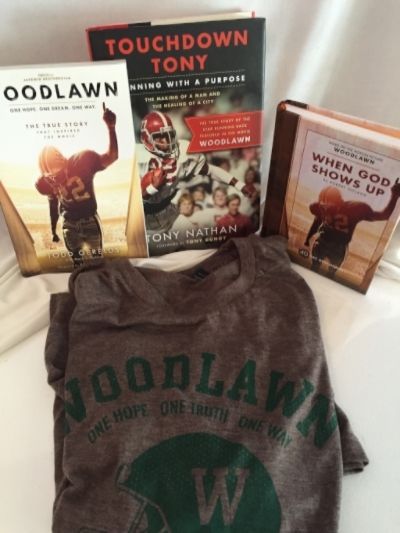 3 books and a t-shirt, which is a size XL.
WOODLAWN, by Todd Geralds, on which the movie is based
TOUCHDOWN TONY, by Tony Nathan, the autobiography of the superstar player on whose life the film is based.
WHEN GOD SHOWS UP, by Robert Noland, a 40-day devotional tied to the themes of the film.
I am already enjoying the 40 devotional, and my boys have already got their hands on the books, so once they are finished with them I will be reading them.
This is a family friendly movie that all will enjoy. Its out in theaters Oct. 16th, 2015. If you get the chance, go see this movie!!
Enter below. This giveaway is open until Tuesday, Oct. 20th, 2015. Good luck!!
My friend Danielle over at "Finally Finding Me" has some great giveaways on her blog. Head on over to her blog and get signed up!
The first one is for a great winter hat for that man in your life!
And the other one is the one I really want to win! Cool, comfy jammies!
Good luck!
You need to head on over to Finally Finding Me's blog and get entered in her giveaway for "30 Meals in a Day".
The recipes sound really yummy, and who wouldn't want a freezer full of meals for the month? Even if I don't win, I may have to consider buying the software. Any way I can make my meals easier I am game! I so need to break up the boring routine of our meals!
What you may ask? Giveaways! My friend Danielle over at Finally Finding Me… I Think is having some awesome giveaways again!! I have 5 to tell you about! So grab a cup of coffee or cocoa and sit a spell while I share a little about them.
First up is rain boots. Now at first I didn't know if I was going to enter this one, but after seeing so many people out and about lately wearing them, they have grown on me. And we have had nothing but rain all week!
2nd is for a half tee shirt. These are pretty cool! I hate it when my shirts ride up underneath my sweaters, this would work out great! They come in short or long sleeve.
3rd is for a charm bracelet. Jewelry, what girl doesn't like jewelry!?!
4th is for, guess what? More jewelry, this time for a your choice up to $35, so have fun picking something out!!
And the last, is for some cute cookie cutters. This will work for me, as I love to bake, and always am looking for cute cookie cutters!!
So head on over to her blog and get signed up!!

A party? What fun! And it will coincide with my birthday (13th) this year!! Even better! Head on over to 5 Minutes for Mom, via the button above to join in on all of the festivities!!
I guess I had better start off by introducing myself, I'm Jodi, mom to 2 boys, and owner of one very spoiled cat.
My oldest ~ ~ ~ ~ ~ ~ ~ ~ ~ ~ My youngest

My spoiled kitty

I have been blogging for some time now, I like to participate in lots of meme's and share random stuff. I have made some wonderful bloggy friends over the years, and have met a few, hopefully I can meet more in the future! I love to bake, take pictures, knit and spend time with family and friends.
There are alot of great prizes this year! My top 3 choices for prizes are:
Toshiba Satellite L505D-ES5025
100 – One $25 Wachovia gift card to be used anywhere Visa is accepted.
Provided by: Tamona's Tips
Follow here: wahsleuth or Visit Our Fan Page: Tamona's Tips
101 – One lucky winner will get this $450 Human Touch Foot and Calf Massager that is being given away by Still Blonde after All These Years!, a blog for women over 45.
Provided by: Still Blonde After All These Years!
Visit Our Fan Page: Still Blonde After All These Years
But really any of the prizes would be wonderful to win! So head on over to 5 Minutes for Mom and start partying!!
Thanks for stopping by! Now I am off to visit some blogs!