I have been meaning to do this every year, and yet every year, I totally forget about it. Then today while browsing Pinterest I came across a pin for this. So 2014 will be the year I actually start this! I will be making a trip to Goodwill or the Salvation Army to find a big jar.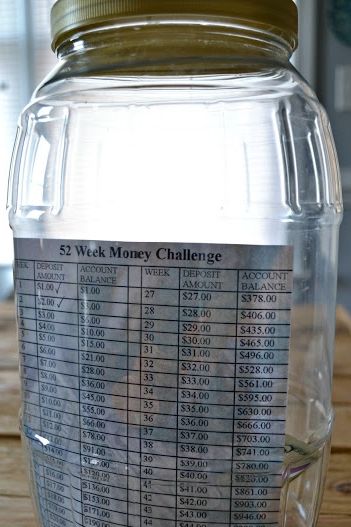 So how does it work exactly??? Well for 52 weeks you save the same amount of money for which week you are on. For instance week one you save $1, week two you save $2, and so on. By the end of your 52 weeks you will have saved $1,378.00. It may not seem like a whole lot, but its like free money that you can do whatever with at the end of the year! There will be a little more in there, as I plan on adding any and all loose change as well.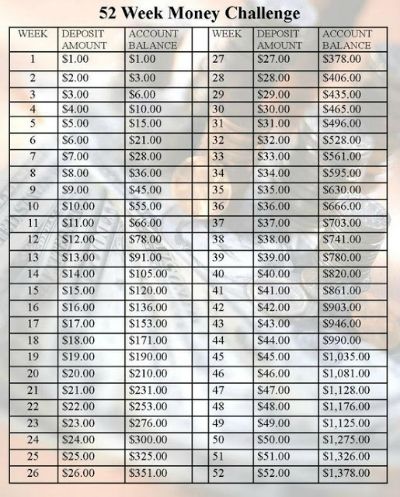 All you need to start is a jar and one dollar….Are you game for the 52 Week Money Challenge? What will you use your money for? I plan on using this for our anniversary vacation ~ we will be celebrating 20 years married in 2015, and I want to go on a tropical vacation!
So who's ready to start saving!?!?

It's Monday again. Time to get your menus planned. Stop on over at Laura's and see if you can some tasty new ideas for dinner.
Sunday ~ ham, cheesy taters, corn and corn muffins
Monday ~ sketti and bruschetta
Tuesday ~ pork chops, baked potatoes, peas and rolls
Wednesday ~ eggs, bacon, hash browns and toast
Thursday ~ pizza
Friday ~ burgers, fries and some sort of fruit
Saturday ~ Olive Garden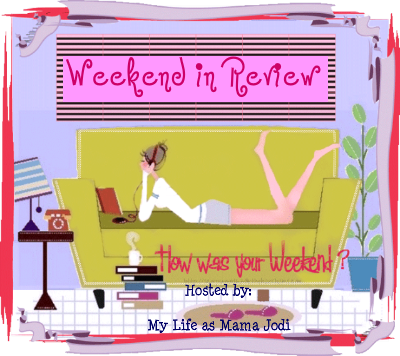 Weekend rewind. If you want to play along, grab the above button and tell me all about your weekend!
Thursday ~ I had to add Thursday in for this long weekend. Thanksgiving Day – Up early to get all the food prep ready to go. Not only did I have the normal turkey dinner, Christopher had asked me to fix a pork roast for him to take in to work later (he had to work at 7:30 pm until the next day sometime, and everyone was bringing in a dish – lucky for him all I had to do was throw it in the crock pot). We had a very lazy day with lots of good food, Lions game on the tube (I watched The Following on my computer) – which they won, Go Lions! I then did some shopping online and got John's present.
Friday ~ I ventured out with Robyn to do some Black Friday Shopping – and no we don't get up and go during the crazy busy hours. We always go around 10. I had nothing in mind that I needed or wanted to purchase, but ended up getting Trent's, and I am so hoping he still likes and wants this item! Once shopping was done, it was home for a nap and dinner of leftovers. Then back over to Robyn's for our Friday night Girls night. So nice to have Cary back at them! Lots of laughs!
Saturday ~ Groceries in the morning, and a stop at Michael's to get a few items. Then off to meet up with a couple of people who bought some items I had posted for sale. The rest of the day/night I vegged all day with the boob tube on and a crochet hook and yarn in my hands.
Sunday ~ A very lazy day was had at our house! Here it is 7 in the evening, and I have never gotten dressed! LOL I made a peach cobbler/coffee cake, that made a huge mess (so glad I put it on a cookie sheet, otherwise I would have to add "cleaning my oven" to my to do list for tomorrow), it was yummy, but next time I make it, it will be put in a 9 x 13 baker, as opposed to the spring form pan it calls for. John has been busy working on an amp, he is trying to figure out how to apply the chauvet slim pack 56 at musicians friend to it, but is having all sorts of problems. He has broken a drill bit, so a trip to Menards it was for him tonight.
I waited all day for Trent to call, only to have him text me, when I was in and out of a nap. So our convo consisted of texts this weekend. He passed his ruck march, and is now an official American Soldier. He has one week left of basic training. He transitions into the AIT portion of his training for Military Police this coming Friday. Just a few more weeks before he gets his holiday leave time!
Let me know if you play along
Mister Linky's Magical Widgets — Auto-Linky widget will appear right here!
This preview will disappear when the widget is displayed on your site.
For best results, use HTML mode to edit this section of the post.
Welcome back to Sunday Stealing which originated on WTIT: The Blog authored by Bud Weiser. Here we will steal all types of memes from every corner of the blogosphere. Our promise to you is that we will work hard to find the most interesting and intelligent memes. You may have heard of the expression, "honor amongst thieves". In that age-old tradition, we also have our rules. First, we always credit the blog that we stole it from and we will "fess up" to the blog owner where we stole the meme. We also provide a link to the victim's post. (It's our way of saying "Thanks!") We do sometimes edit the original meme, usually to make it more relevant to our global players, to challenge our players, sometimes to select that meme's best questions, or simply to make it less repetitive from either this new meme or recently asked questions from a prior featured meme.
Let's go!!!
From Suck it, Nerds!
What would you totally eat right now?: a hot fudge sundae with extra caramel on the bottom from McDonald's
Do you always wear a certain piece of jewelry?: yes, my watch, and two bracelets I made that have meaning to me
What kind of jeans do you like?: low rise ones
What's something on your want list?: LOL… I just created a wish list today for my hubby. I told him the other day that I wanted a Pandora bracelet, and one charm for Christmas. Then for each future holiday/gift giving occasion between us, he could get me a charm to add to it. So today I went to Jared.com and browsed the charms and pinned a bunch to a wish list for him to choose from!
Is animal print tacky?: depending on what the print is on
Give me a good quote that you like.: "My recipe for dealing with anger and frustration: set the kitchen timer for twenty minutes, cry, rant, and rave, and at the sound of the bell, simmer down and go about business as usual" ~ Phyllis Diller
Do you bite your nails?: normally no
What kind of smells do you like?: fresh cut grass, lilacs
Do you wear perfume or cologne?: not usually
What do you think is overrated?: don't know
Next movie you want to see?: Catching Fire
Would you change your eye color if you could?: nope, love my blue eyes
And what are your goals for the remainder of this year?: finish up the Christmas gifts I am making
When is the last time you were at the hospital? over the summer for both my dad and father inlaw
Who introduced you to your current significant other? If you're single, who introduced you to your last ex? my cousin
I love browsing all the free apps for my phone. Today I downloaded RetailMeNot after seeing it on TV. I have briefly skimmed it, but will check it out further as I found some awesome coupons at my first glance. Another one I saw was a real estate app, that I am going to check into further, as it may come in handy once we list the house.
My most used app of course is Facebook and instagram. What cracks my hubby up is that I will be on my laptop and then start browsing my phone at the same time! It may seem weird to him, but I can't view instagram on the computer, so my phone it is.
There have been many apps that I have downloaded from when I first got my iPod to my now iPhone that I no longer use. I think the fad of them wore off, and it just seemed weird to have them still on my phone. I have all of the other ones stored in neat little compartments, and only have on screen, as opposed to many that I used to have! I love that with the latest update, I am able to have more apps in a compartment.