Head on over to Lucy Blossom Crafts to join in on the fun!! This link explains Handmade Monday.
This week I am sharing my finished mermaid tail lapgan.
Just starting it out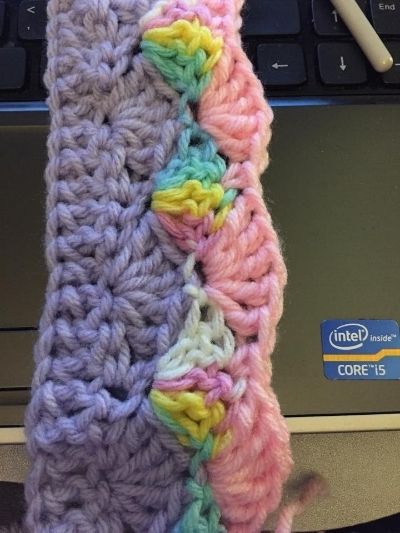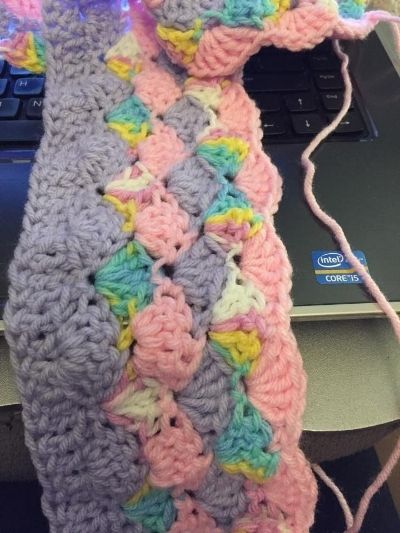 Its finished!!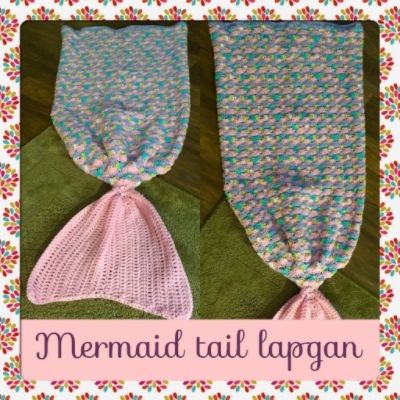 I followed along on the video tutorial:

And a link to the pattern
It worked up really quick. I am starting a 2nd one, and hoping to have it finished by the weekend so I can get to some hat orders, then onto my Christmas projects!
Happy Monday!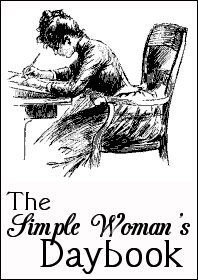 The Simple Woman's Daybook is back at it's original home,
The Simple Woman's blog.
REMEMBER
if you are linking up you will need to change your link from the
old
one to the
new
one. Thank you! (If you are new to the daybook you can go to this
link
to read over the guidelines.)
There will be now be one monthly link-up posted on the first Monday of each month. You are free to post a new daybook link here for each daybook you write at your blog, whether that is once a month or if you daybook daily…it does not matter. It is what works best for you. Just please keep the link back to The Simple Woman's Daybook in tact and in view in the body of your post so other's can find us. Thank you for continuing to do this very important step!
~*~*~*~*~*~*~*~*~*~*~*~*~*~*~*~*~*~*~*~*~*~*~*~*~
For Today… November 23rd, 2015
Outside my window…daybreak is just starting to peek…its cold and snowy
I am thinking… that I need more sleep. It wasn't a great night of sleep.
I am thankful… for my family and friends.
I am wearing… black sweats and a sweatshirt… I need to get some socks on (my feet are freezing)
I am creating… a mermaid tail lapgan
I am going… no where….its too cold out and I need to get some things down around the house this week.
I am wondering… what I will have for breakfast. I am thinking oatmeal, as I am freezing and it will warm me up
I am reading… I have 3 books going right now (its funny as I go from no books to 3…) 1) The Sciatica Relief Handbook (got to figure out how to alleviate the pain), 2) Candace Cameron Bures book still. 3) The Fervent/span>
I am hoping… That the change at work goes through quickly…as I really want the opportunity to work from home.
In my garden… nothing, as its covered in snow
In my kitchen… Menu for the week:
Monday ~ sketti/garlic bread
Tuesday ~ fish, corn rice
Wednesday ~ breakfast – eggs, sausage, fired potatoes, toast
Thursday ~ Turkey day.. turkey, mashed taters/gravy, sweet potatoes, stuffing, green bean casserole, pies
Friday ~ leftovers
Saturday ~ leftovers
Sunday ~ out
A favorite quote for today…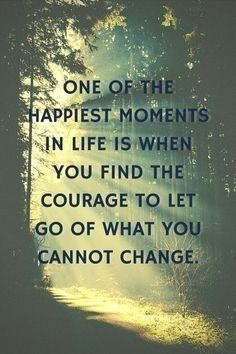 A few plans for the rest of the week:
Monday ~ laundry, housework, plastic on the windows and crocheting
Tuesday ~ no major plans, just hanging out at home
Wednesday ~ work
Thursday ~Turkey day! Going over to the inlaws
Friday ~ nothing….staying home
Saturday ~ grocery shopping, getting tires on the truck, then home to hang with the hubby
Sunday ~ church, putting up Christmas decor
To read more Daybooks, please stop by THE SIMPLE WOMAN blog.
Photo Credit: http://www.salad-in-a-jar.com
Ingredients:
8 ounces uncooked spaghetti
1 pound ground beef
1 large can spaghetti sauce (26.5 ounces)
1 tablespoon butter
½ cup chopped green peppers (I usually omit or substitute red peppers)
? cup chopped onions
8 ounces cream cheese
2 tablespoons milk
Fresh grated Parmesan cheese
French-fried onions (small can)
Instructions:
Cook spaghetti according to directions on the package. Cook to al dente, drain and set aside.
Brown ground beef. Drain excess grease. Add spaghetti sauce to skillet and heat.
Combine onions, peppers and butter in small glass bowl. Cover and microwave 4 minutes on HIGH until soft.
Add cream cheese and milk to vegetables and stir well. (If cream cheese is not soft, nuke it for 20-30 seconds to make it easy to spread.)
Using a 12 x 8-inch baking dish (or something close), assemble in the following order: thin layer of spaghetti sauce, cooked spaghetti, cream cheese/vegetable mixture, remaining spaghetti sauce, parmesan cheese (amount subject to your own taste)
Bake at 350 degrees for 25 minutes. Top with french-fried onions and continue baking 5 more minutes. (This is the secret ingredient–don't let them burn.)
I was given the opportunity to have this giveaway for the movie "33" that will be out in theaters this Friday Nov. 13th. I can't wait to go see the movie. I have already told the hubby that this will incorporated into our weekend away this weekend.
For the giveaway I was given this cool black t-shirt (size large) that says Hope Runs Deep on the front, and then on the back "The 33″ in Theaters November 13th, and a cute, little black flash light with "The 33″ on it.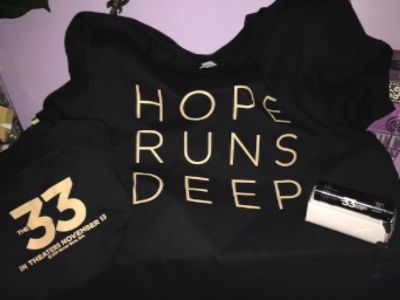 This is a real quick giveaway, that is open now until Thursday Nov. 12th. I will be drawing a winner on Friday Nov. 13th. All you have to do to enter is leave a comment down below saying whether or not you are going to see this movie. That's it!
Here is a video telling more about the movie:
From Alcon Entertainment and Warner Bros. comes this exciting and moving film based on the real-life event when a gold and copper mine collapses, trapping 33 miners underground for 69 days. Antonio Banderas and Lou Diamond Phillips star. In theaters Nov. 13.
Did some baking today, the house smells so yummy! I wanted to add chocolate chips to the pumpkin bread, but alas, the hubby had a sweet tooth and ate the chocolate chips. Luckily I had some raisins on hand and added them into the batter. I halved the following recipe.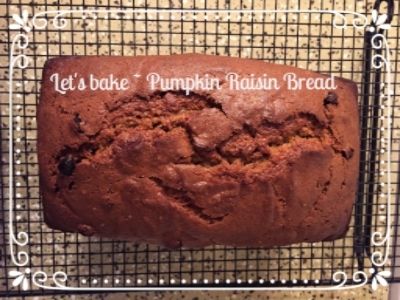 Pumpkin bread
3 1/2 cups flour
2 tsp baking soda
2 tsp salt
1 tsp baking powder
1 tsp ground nutmeg
1 tsp ground allspice
1 tsp ground cinnamon
1/2 tsp ground cloves
3 cups sugar
1 cup canola oil
4 eggs, beaten
2 cups solid pack pumpkin puree
2/3 cup water
Preheat oven to 350. Grease 2 loaf pans
In a medium bowl, combine flour, baking soda, salt, baking powder, nutmeg, allspice, cinnamon and cloves.
In a large bowl with an electric mixer, blend sugar, oil and eggs. Stir in pumpkin. Slowly blend the flour mixture into the pumpkin mixture. While blending add the water. Pour the batter into the pans.
You can add additional chocolate chips or raisins before pouring into the pans. A cup or a cup and a hald (eyeball it to your liking).
Bake in a preheated 350 oven for 90 minutes. Let cool fro 10 minutes before removing from the pans.
Enjoy!