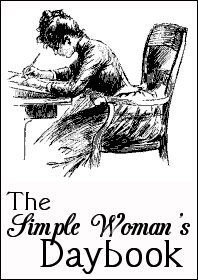 The Simple Woman's Daybook is back at it's original home,
The Simple Woman's blog.
REMEMBER
if you are linking up you will need to change your link from the
old
one to the
new
one. Thank you! (If you are new to the daybook you can go to this
link
to read over the guidelines.)
There will be now be one monthly link-up posted on the first Monday of each month. You are free to post a new daybook link here for each daybook you write at your blog, whether that is once a month or if you daybook daily…it does not matter. It is what works best for you. Just please keep the link back to The Simple Woman's Daybook in tact and in view in the body of your post so other's can find us. Thank you for continuing to do this very important step!
~*~*~*~*~*~*~*~*~*~*~*~*~*~*~*~*~*~*~*~*~*~*~*~*~
For Today… October 5th, 2015
Outside my window…Its another gloomy day, hoping for no rain, as the pup needs to go out and run off some energy!!
I am thinking… that things are not going to be worked on with an issue from last week. The more I think about things, the more I feel that nothing was really handled very well.
I am thankful… for my husbands adventurous spirit when it comes to many of my crazy ideas in ways to save money. We ventured out on an idea of redoing our countertops in order to save money, as one of the counters to buy new would have cost us a pretty penny, as it was 3.5 inches longer than the standard length. You can check out the video that I took of us doing the first step, here
I am wearing… black yoga pants and a gray and purple t-shirt **edited to add… that I have now added a sweatshirt to the attire, its gotten chilly in the house!
I am creating… still many crochet projects
I am going… to be very busy with sewing on buttons and other sewing projects ttaht will be in my craft show. I really don't like sewing, but it needs to get done.
I am wondering… how the phone interview will go that I have later today.
I am reading… still the same book as last week, but not every day, only a little bit here and there. I just can't seem to get in to reading any books right now.
In my kitchen… Menu for the week:
Monday ~ sketti
Tuesday ~ soup and rolls
Wednesday ~ breakfast
Thursday ~ pizza
Friday ~ burgers/fries
Saturday ~ not sure yet
A favorite quote for today…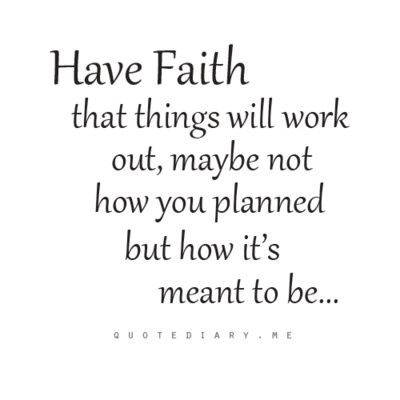 One of my favorite things… A bloomin' baked apple, so yummy!

A few plans for the rest of the week:
Monday ~ housework, laundry, working on crochet projects
Tuesday ~ working on crochet projects
Wednesday ~ work
Thursday ~ work
Friday ~ grocery shopping, helping out at the church garage sale, working on crochet projects
Saturday ~ working on crochet projects
Sunday ~ church and not sure what else.
To read more Daybooks, please stop by THE SIMPLE WOMAN blog.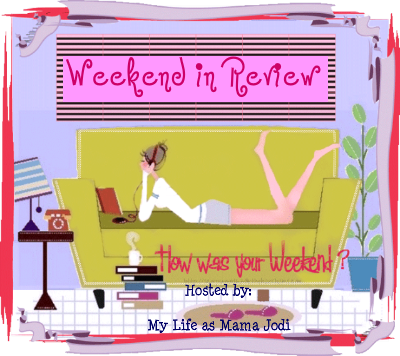 Weekend rewind. If you want to play along, grab the above button and tell me all about your weekend!
Friday ~ I had John's car, as his brakes were making a horrible grinding sound….it was just safer for him to take my truck to work, as I only had to go out for groceries. I worked on crochet projects for the day. Once John got home, he mowed the lawn and got things ready for him to do his brakes first thing in the morning.
Saturday ~ I made us some turnovers for breakfast, then John went to work on his brakes. After we had dinner we cleared out the kitchen (again), and got ready to start the countertops! Still fearing the unknown.. but you have to start somewhere!
I am so very pleased with how they turned out!!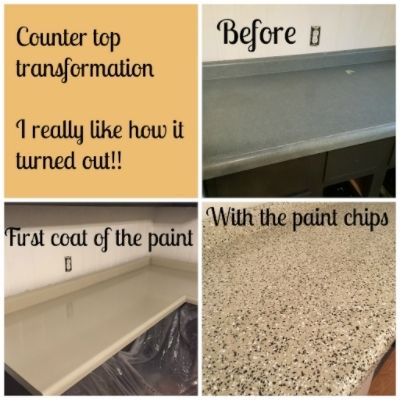 I also have a video of us working on it:

Sunday ~ church in the morning, then lunch at Bud n Stanely's, a little shopping at Goodwill; then I went to Walmart to pick up an area rug that I found on clearance. After a brief nap, we went back to work in the kitchen. After a light sanding, we started putting on the polyurethane. Its going to take several coats I do believe. We are putting the sink back in place, as I can't go much longer without running water in the kitchen!
Let me know if you play along.
Mister Linky's Magical Widgets — Easy-Linky widget will appear right here!
This preview will disappear when the widget is displayed on your site.
If this widget does not appear,
click here
to display it.
I am addicted to the Dollar Tree. I have to go at least once a week. Do I need things from there, no…but I still go anyways! I love watching youtube videos of others that haul stuff from there, and then have to go on the hunt to find the things at my DT's! Its crazy I tell ya, just crazy! I have to stop at any when we are out and about, even in different cities! My hubby is the same way with Guitar Centers, he seems to find all of the guitar center locations as easily as I do the DT's! I know he has been itching to go to the one in our city, but his stop would be way more expensive than a stop at the DT is for me!
As soon as he finishes up my kitchen, then maybe, just maybe we can have a date night out that way and we can stop in for him to just browse for a while! It will be a reward for making my kitchen all pretty and function able again!!
Here is the recipe for the Andes Creme de Menthe cookies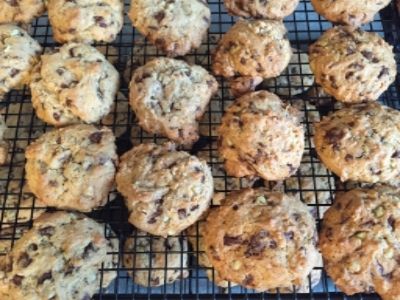 Ingredients:
1?2 cup butter, softened
3?4 cup brown sugar
1?2 cup granulated sugar
1 teaspoon baking soda
1 teaspoon baking powder
2 teaspoons vanilla extract
2 large eggs
1 (10 ounce) package Andes mint baking chips
2 2?3 cups all-purpose flour
Directions:
Preheat oven to 350°F.
Blend butter, brown sugar, white granulated sugar, baking soda, baking powder, vanilla and eggs until ingredients are mixed.
Add Andes Baking Chips and mix. Add Flour and continue to mix until all ingredients are well blended together.
Cover and chill in the refrigerator for 45-60 minutes.
Spoon out approximately 1 oz of dough per cookie.
Form a ball and then slightly flatten.
Place on non-stick baking pans and bake for approximately 8-10 minutes.
Cool on pans for 2 minutes, then remove.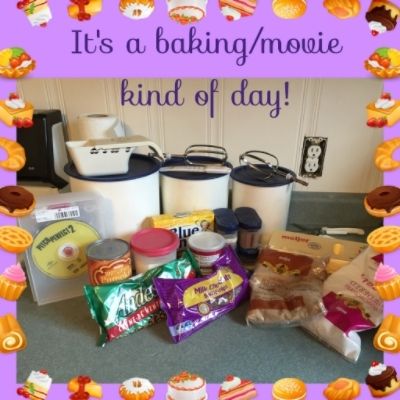 Today was a gloomy, rainy day, so out came the baking supplies, as well as a trip to the video store to pick up some movies.
Baking agenda – iced pumpkin cookies, chocolate chip bar cookies and Andes Creme de Menthe cookies.
Movies – Pitch Perfect 2, Spy and Entourage.
The house was smelling really good until I discovered that we have a skunk under our deck. Lici was going nuts trying to get at it. Yikes!! Thankfully she didn't get sprayed! It did let out an odor though, as I could get a faint smell of it here and there with the windows open. I had to keep her inside until John got home from work. He got out the moth balls, and started tossing them under the deck. And lo and behold, it came out… it was a huge lil bugger! It took off towards the back of the yard and went through the fence to our neighbors side, behind their garage. We are thinking it kept going, as once we got closer it wasn't no where to be seen. He threw a bunch of moth balls back there as well. I am hoping it stays away! We have put up boards to keep it from getting under the deck.
Back to my baking. Oh all the goodies that were made! Just shy of 2 dozen of the choc chip bar cookies, just shy of 3 dozen pumpkin cookies, and 4 dozen of the andes cookies.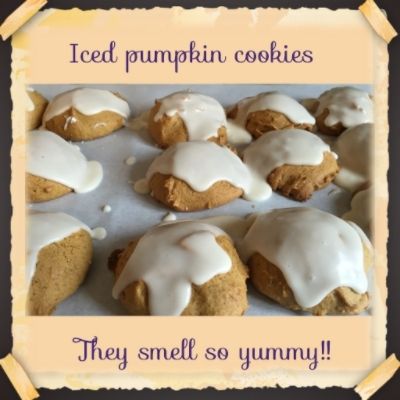 Iced Pumpkin Cookies
Ingredients:
2 1/2 cups all-purpose flour
1 teaspoon baking powder
1 teaspoon baking soda
2 teaspoons ground cinnamon
1/2 teaspoon ground nutmeg
1/2 teaspoon ground cloves
1/2 teaspoon salt
1/2 cup butter, softened
1 1/2 cups white sugar
1 cup canned pumpkin puree
1 egg
1 teaspoon vanilla extract
Icing:
2 cups confectioners' sugar
3 tablespoons milk
1 tablespoon melted butter
1 teaspoon vanilla extract
Directions
Preheat oven to 350 degrees F (175 degrees C). Combine flour, baking powder, baking soda, cinnamon, nutmeg, ground cloves, and salt; set aside.
In a medium bowl, cream together the 1/2 cup of butter and white sugar. Add pumpkin, egg, and 1 teaspoon vanilla to butter mixture, and beat until creamy. Mix in dry ingredients. Drop on cookie sheet by tablespoonfuls; flatten slightly.
Bake for 15 to 20 minutes in the preheated oven. Cool cookies, then drizzle glaze with fork.
To Make Glaze: Combine confectioners' sugar, milk, 1 tablespoon melted butter, and 1 teaspoon vanilla. Add milk as needed, to achieve drizzling consistency.